Jaguar XF Reviews & Comparisons
Jaguar XF Reviews
Jaguar XF Videos
Start Your Engines: Reviewing the Jaguar XF 2021
Is the Jaguar XF 2021 the best luxury sedan you can buy today?
Top to bottom review of the new Jaguar XF 2021
Check out this in-depth review of the all-new 2021 Jaguar XF.
Jaguar XF Comparisons
Jaguar vs. Mercedes: Checking out the XF and C63 AMG
Quick comparison video of the Jaguar XF vs. Mercedes C63 AMG
Is the 2021 Jaguar XF Ready to Be Compared Against the BMW 5 Series and Mercedes E-Class?
The new 2021 Jaguar XF models have new exteriors and interiors plus future-proof technologies.
ZIP CODES - near Huntington Beach
90240

90242

90712

90713

90715

90805

90814

92648

92649

92808

92831

92833

92835

90822

90720

90630

92646

92805

90807

90810

92806

92804

92801

90740

90808
CITIES near Huntington Beach
Downey
Lakewood
Long Beach
Huntington Beach
Anaheim
Fullerton
Los Alamitos
Cypress
Seal Beach
Cerritos
About the Jaguar XF
Using Jaguar's Lightweight Aluminum Architecture, the XF is a more efficient vehicle, with lower operating costs and reduced emissions, as low as 129g/km1. Moreover, the benefit of the lighter weight provides supreme comfort and handling levels.
Jaguar XF Trim Comparison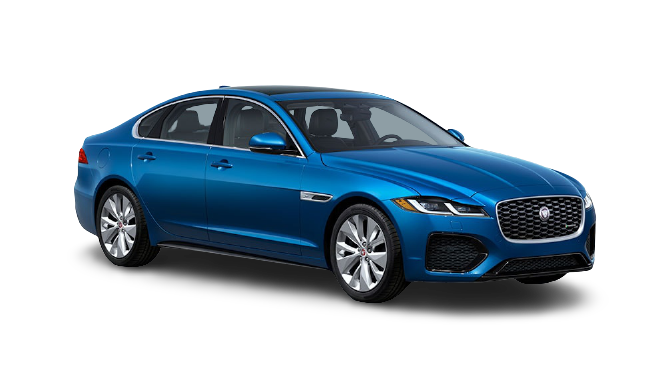 2021 XF SE
$47,095
Pivi Pro
Heated, electric, power-fold, memory door mirrors with approach lights and auto-dimming driver side
Features are in addition to the XF S.
2.0L P250 i4 GAS (246 HP)
16-way electric driver and passenger memory front seats with two-way manual headrests
2021 XF R‑DYNAMIC SE
$49,995
2.0L P300 i4 GAS (296 HP)
Features are in addition to the XF SE.
All-Wheel Drive
P300 AWD badge
R‑Dynamic-branded leather steering wheel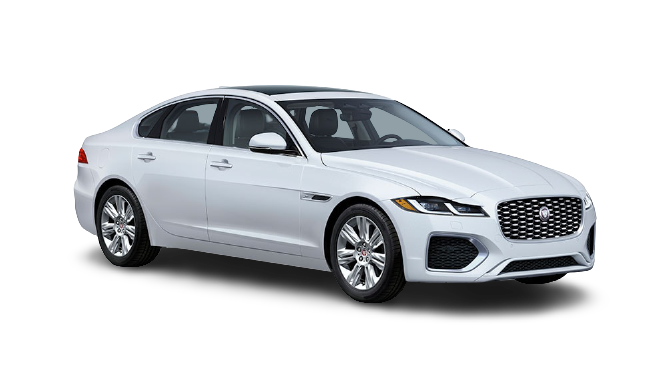 2021 XF S
$43,995
Light Oyster Morzine headlining
3D Surround Camera
2.0L P250 i4 GAS (246 HP)
Premium LED Headlights with Signature DRL
18" Style 7011, 7 split-spoke wheels with Gloss Silver finish
Frequently Asked Questions
What is the Jaguar XF's fuel economy?
The new Jaguar XF offers 25 mpg city and 33 mpg highway, for a combined 28 mpg.
What engine options are available with the Jaguar XF?
The XF includes a turbocharged 2.0-liter four-cylinder, available in the P250 version producing 246 horsepower, and the P300 generating 296 horsepower.
What type of transmission is available in the Jaguar XF?
The Jaguar XF includes an 8-speed automatic transmission.
How many passengers can the Jaguar XF seat?
The maximum seating capacity is five passengers.
About Envision Jaguar Cerritos Sales Department
The excellent treatment you'll receive and comfort you'll find in leasing or owning a Jaguar begins when you enter the Jaguar Cerritos showroom, and stays with you as long as you're behind the wheel. In addition to our extensive inventory of Jaguar vehicles, we also offer Jaguar parts and service at our dealership in Cerritos, CA. Jaguar vehicles aren't just our product, they're our passion and anyone who shares that passion is a friend of ours.
Get Directions to Envision Jaguar Cerritos
REVIEWS
From our Huntington Beach Customers
Ramon C. 
Came in on a Saturday afternoon, it was hectic. Sean spotted us and told us he would be right with us. After looking around we found the car we wanted by that time Sean came back to us and asked us to join him in his office. Sean asked what is was that I wanted in a car and showed me to the vehicle which had it all. Sean knew exactly what they had and didn't have off the top of his head. I want to say everything went smoothly but I was indecisive. I had originally been interested in a Q7 or Q8 but after speaking with him and checking out the Velar my mind was changed. Then the deal was made and I had a new car.If you want someone knowledgeable, friendly, energetic. Look for Sean hell probably be busy with someone else at the moment but he's worth the wait.
Rick M. 
I was extremely satisfied with the customer service.  Vanessa Martinez is the example when  it comes to taking care of customers! "I appreciate you"...
Jennifer J. 
Just an update, the GM reached out and was extremely apologetic.  It was much appreciated that he acknowledged the service wasn't up to par and did what he could to rectify the situation.  Classy move lol2 stars for the service department!!  My 2020 evoque has been in several times for a gearbox fault.  This last time it was in they did a complete computer system overhaul that hopefully fixes the issue of my car stranding me places because it won't go into drive.  When I received my car this last time I was alerted the next morning ALL my tires were well below PSI, and they had sprayed what I'm assuming was disinfectant directly onto my touch screen control panel.  I realize these may seem like trivial things but when you're paying for a luxury vehicle that's now been in the shop multiple times for the same problem, it's frustrating to now have to deal with smaller issues caused by the service department.     My 4 phone calls, and 1 email to them have ALL gone unanswered, extremely unprofessional.
Kelly S. 
I've been servicing my car at the Cerritos location over the past few years and have always had a great experience with the service team, but recently, I decided that I wanted to upgrade my 2008 Land Rover LR2 for a new all black 2020 Range Rover Evoque and Sean Khnkoyan made my dreams come true!Especially during the COVID-19 situation, Sean went above and beyond to provide me the best customer service possible. He was extremely helpful and knowledgeable. Sean was able to get me the exact car I wanted at a great price within a day of inquiring, while making sure the entire leasing process was seamless and quick! I was able to drive off with my new car in just over an hour. Overall, I had a great experience thanks to Sean and I would recommend that you ask for him when you're looking to lease or purchase a new Land Rover or Jaguar.
Envision Jaguar Cerritos Sales Hours
Monday9:00AM - 7:00PM
Tuesday9:00AM - 7:00PM
Wednesday9:00AM - 7:00PM
Thursday9:00AM - 7:00PM
Friday9:00AM - 7:00PM
Saturday9:00AM - 7:00PM
Sunday10:00AM - 7:00PM
Jaguar XF in Anaheim
 | 
Jaguar XF in Cerritos
 | 
Jaguar XF in Cypress
 | 
Jaguar XF in Downey
 | 
Jaguar XF in Fullerton
 | 
Jaguar XF in Huntington Beach
 | 
Jaguar XF in Lakewood
 | 
Jaguar XF in Long Beach
 | 
Jaguar XF in Los Alamitos
 | 
Jaguar XF in Seal Beach