Jaguar F-Pace Reviews & Comparisons
Jaguar F-Pace Reviews
Jaguar F-Pace Videos
Jaguar's Best-Selling F-Pace 2021 Review
We test drive Jaguar's luxury SUV. Does it drive as well as it looks? It's one of the best-looking SUVs today, and we find out just why its Jaguar's best-selling vehicle.
All-New Powerful 2021 Jaguar F-Pace P400
Which luxury performance SUV should you get? The refreshed F-Pace now includes a 3.0L supercharged & turbocharged inline-6 that produces 395HP and is mated to a ZF 8-speed automatic. On the exterior, you'll find new everything - from the hood, headlights, front fascia, g...
Jaguar F-Pace Comparisons
Best Luxury Midsize SUV: BMW X4M COMP vs. Jaguar F-Pace SVR
We take two of the best performance SUVs available today and put them to the test.
2020 SUV Models Comparison: Watch this if you need help choosing your next luxury crossover vehicle! We compare the Audi Q5, BMW X3, Jaguar F-Pace, Discovery Sport, Range Rover Evoque and Porsche Macan.
ZIP CODES - near Long Beach
90630

90703

90712

90804

90805

90806

90808

90813

90814

90815

92648

92801

92802

92804

92806

92833

90720

90807

92647

90713

92835

90740

90241

92649

90822
CITIES near Long Beach
Cypress
Cerritos
Lakewood
Long Beach
Huntington Beach
Anaheim
Fullerton
Los Alamitos
Seal Beach
Downey
About the Jaguar F-Pace
The F-Pace is Jaguar's first SUV offering. First announced at the 2015 North American International Auto Show in Detroit, with sales following the next year, the F-Pace has quickly earned accolades and awards for its design and performance, including World Car of the Year and World Car Design of the Year.
Jaguar F-Pace Trim Comparison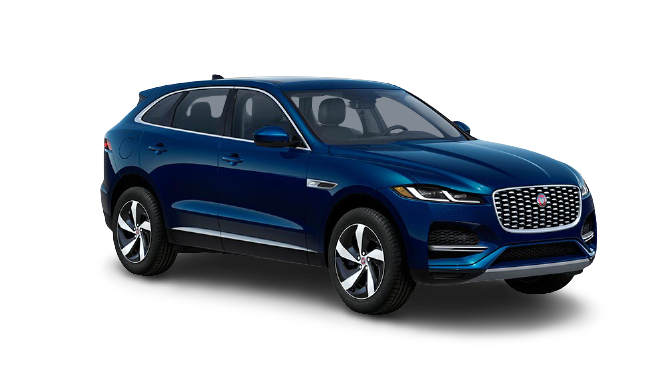 2021 F-PACE S
$53,895
2.0L P250 i4 GAS (246 HP) or
Pivi Pro (Connected) with 11.4" Touchscreen
Features are in addition to the F‑PACE.
19" Style 5103, 5 spoke, Gloss Black wheels with contrast Diamond Turned finish
Grained Leather seats with Diamond perforation and embossed Jaguar Leaper
2021 F-PACE SVR
$84,600
21" Style 5080, 5 split-spoke, Satin Technical Grey with contrast Diamond Turned finish
14-way heated and cooled electric driver and passenger memory Performance front seats
SVR body kit including SVR front bumper, SVR body-colored door claddings with Satin Grey finishers and SVR rear bumper with Satin Grey finish
5.0L P550 i8 GAS (550 HP)
Features are in addition to the F‑PACE S.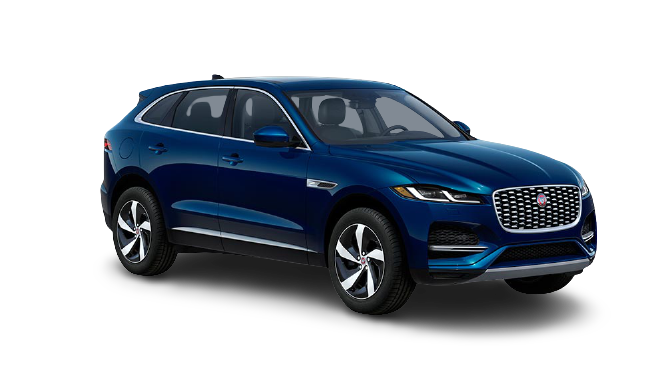 2021 F-PACE
$49,995
Pivi with 11.4" Touchscreen
Front and Rear Parking Aid
Premium LED Headlights with Signature DRL
19" Style 5038, 5 split-spoke, Gloss Grey wheels with contrast Diamond Turned finish
12-way heated electric front seats with 2-way manual headrest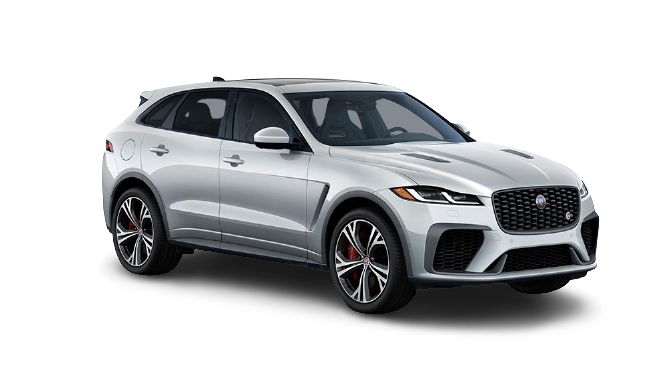 2021 F-PACE R‑DYNAMIC S
$65,200
3.0L P400 i6 MHEV (395 HP)
Ebony Morzine headlining
19" Style 5037, 5 spoke, Gloss Black wheels
Adaptive and Configurable Dynamics
Features are in addition to the F‑PACE S.
Frequently Asked Questions
What kind of engine does the Jaguar F-Pace come with?
The F-Pace includes a standard turbocharged 2.0-liter four-cylinder that produces 246 horsepower. Additionally, it's also available in a 3.0-liter inline-six that produces either 335 or 395 horsepower.
What is the estimated MPG for the Jaguar F-Pace?
The Jaguar F-Pace provides 22 mpg in city and 27 mpg on highway.
What is the F-Pace's fuel tank capacity?
The F-Pace's fuel tank capacity is 21.7 gallons.
How many cylinders does the Jaguar F-Pace have?
The F-Pace has 4 cylinders.
About Envision Jaguar Cerritos Sales Department
The excellent treatment you'll receive and comfort you'll find in leasing or owning a Jaguar begins when you enter the Jaguar Cerritos showroom, and stays with you as long as you're behind the wheel. In addition to our extensive inventory of Jaguar vehicles, we also offer Jaguar parts and service at our dealership in Cerritos, CA. Jaguar vehicles aren't just our product, they're our passion and anyone who shares that passion is a friend of ours.
REVIEWS
From our Long Beach Customers
Rick M. 
I was extremely satisfied with the customer service.  Vanessa Martinez is the example when  it comes to taking care of customers! "I appreciate you"...
Susy Sailor 
Shawn was my salesman and he was 👍. Very nice, knowledgeable, and answered all of my questions.
Tom Hanlon 
Great parts department and friendly service
Jennifer J. 
Just an update, the GM reached out and was extremely apologetic.  It was much appreciated that he acknowledged the service wasn't up to par and did what he could to rectify the situation.  Classy move lol2 stars for the service department!!  My 2020 evoque has been in several times for a gearbox fault.  This last time it was in they did a complete computer system overhaul that hopefully fixes the issue of my car stranding me places because it won't go into drive.  When I received my car this last time I was alerted the next morning ALL my tires were well below PSI, and they had sprayed what I'm assuming was disinfectant directly onto my touch screen control panel.  I realize these may seem like trivial things but when you're paying for a luxury vehicle that's now been in the shop multiple times for the same problem, it's frustrating to now have to deal with smaller issues caused by the service department.     My 4 phone calls, and 1 email to them have ALL gone unanswered, extremely unprofessional.
Envision Jaguar Cerritos Sales Hours
Monday9:00AM - 7:00PM
Tuesday9:00AM - 7:00PM
Wednesday9:00AM - 7:00PM
Thursday9:00AM - 7:00PM
Friday9:00AM - 7:00PM
Saturday9:00AM - 7:00PM
Sunday10:00AM - 7:00PM