Jaguar F-Pace Reviews & Comparisons
Jaguar F-Pace Reviews
Jaguar F-Pace Videos
Jaguar's Best-Selling F-Pace 2021 Review
We test drive Jaguar's luxury SUV. Does it drive as well as it looks? It's one of the best-looking SUVs today, and we find out just why its Jaguar's best-selling vehicle.
All-New Powerful 2021 Jaguar F-Pace P400
Which luxury performance SUV should you get? The refreshed F-Pace now includes a 3.0L supercharged & turbocharged inline-6 that produces 395HP and is mated to a ZF 8-speed automatic. On the exterior, you'll find new everything - from the hood, headlights, front fascia, g...
Jaguar F-Pace Comparisons
Best Luxury Midsize SUV: BMW X4M COMP vs. Jaguar F-Pace SVR
We take two of the best performance SUVs available today and put them to the test.
2020 SUV Models Comparison: Watch this if you need help choosing your next luxury crossover vehicle! We compare the Audi Q5, BMW X3, Jaguar F-Pace, Discovery Sport, Range Rover Evoque and Porsche Macan.
ZIP CODES - near Huntington Beach
90241

90712

90804

90807

90808

90814

92646

92647

92648

92804

92806

92831

92832

92833

92808

90715

90810

92649

90720

90822

92835

90805

92802

92805

90815
CITIES near Huntington Beach
Downey
Lakewood
Long Beach
Huntington Beach
Anaheim
Fullerton
Los Alamitos
Cypress
Cerritos
Seal Beach
About the Jaguar F-Pace
What makes the F-Pace an attractive and desirable car, aside from its award-winning design, is its sportiness. Drivers who seek dynamics, performance and handling will be pleasantly surprised in what the F-Pace has to offer. The interior includes generous cargo space, a roomy cabin and intuitive technologies to help drivers enjoy each and every trip.
Jaguar F-Pace Trim Comparison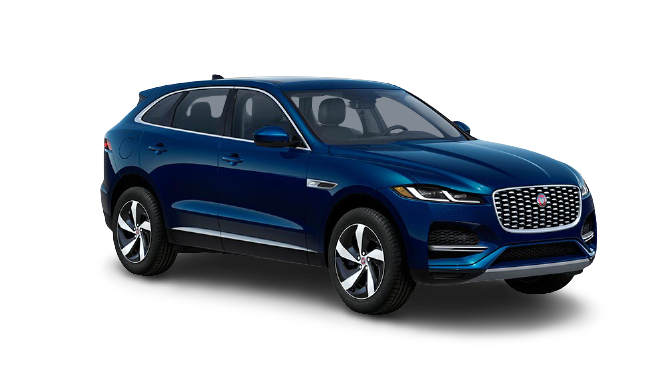 2021 F-PACE S
$53,895
Grained Leather seats with Diamond perforation and embossed Jaguar Leaper
3.0L P340 i6 MHEV (335 HP)
Features are in addition to the F‑PACE.
Traffic Sign Recognition and Adaptive Speed Limiter
Pivi Pro (Connected) with 11.4" Touchscreen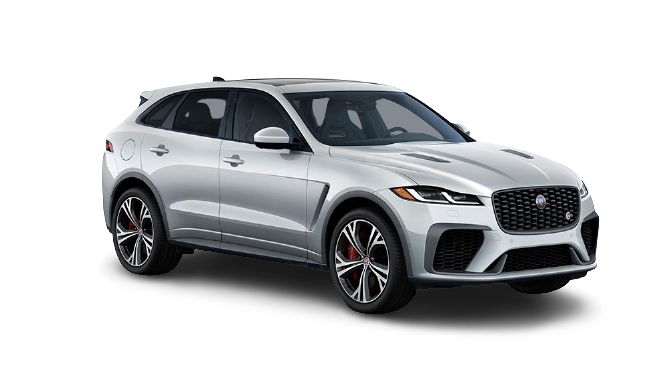 2021 F-PACE R‑DYNAMIC S
$65,200
19" Style 5037, 5 spoke, Gloss Black wheels
R‑Dynamic-branded leather steering wheel
Features are in addition to the F‑PACE S.
Adaptive and Configurable Dynamics
R‑Dynamic body kit consisting of door cladding, grille, bumper finishers and bumper inserts
2021 F-PACE SVR
$84,600
21" Style 5080, 5 split-spoke, Satin Technical Grey with contrast Diamond Turned finish
Features are in addition to the F‑PACE S.
SVR body kit including SVR front bumper, SVR body-colored door claddings with Satin Grey finishers and SVR rear bumper with Satin Grey finish
14-way heated and cooled electric driver and passenger memory Performance front seats
5.0L P550 i8 GAS (550 HP)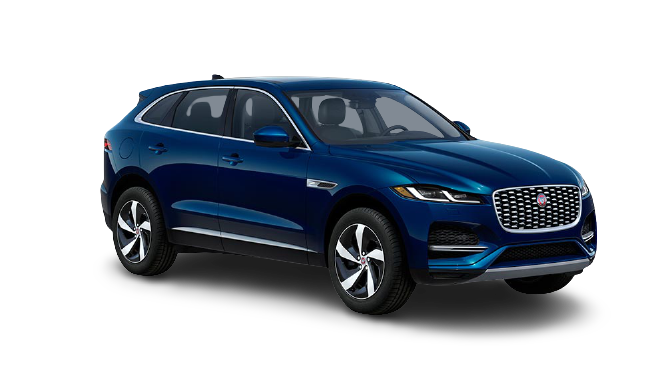 2021 F-PACE
$49,995
Premium LED Headlights with Signature DRL
12-way heated electric front seats with 2-way manual headrest
Front and Rear Parking Aid
19" Style 5038, 5 split-spoke, Gloss Grey wheels with contrast Diamond Turned finish
Keyless Entry
Frequently Asked Questions
What kind of engine does the Jaguar F-Pace come with?
The F-Pace includes a standard turbocharged 2.0-liter four-cylinder that produces 246 horsepower. Additionally, it's also available in a 3.0-liter inline-six that produces either 335 or 395 horsepower.
What is the estimated MPG for the Jaguar F-Pace?
The Jaguar F-Pace provides 22 mpg in city and 27 mpg on highway.
What is the F-Pace's fuel tank capacity?
The F-Pace's fuel tank capacity is 21.7 gallons.
How many cylinders does the Jaguar F-Pace have?
The F-Pace has 4 cylinders.
About Envision Jaguar Cerritos Sales Department
The excellent treatment you'll receive and comfort you'll find in leasing or owning a Jaguar begins when you enter the Jaguar Cerritos showroom, and stays with you as long as you're behind the wheel. In addition to our extensive inventory of Jaguar vehicles, we also offer Jaguar parts and service at our dealership in Cerritos, CA. Jaguar vehicles aren't just our product, they're our passion and anyone who shares that passion is a friend of ours.
REVIEWS
From our Huntington Beach Customers
Derek E. 
About a week ago my wife and I got serious about purchasing another vehicle.  She had a whole list of "requirements" 3rd row etc.  We had a few cars in mind and one day I took her to the Range Rover dealership in Cerritos.  It's always been on her mind that she wanted one but she didn't really think it was possible.  We were immediately greeted by Sean (Suren) and shown a few vehicle's after talking some basics of what we were looking for.  I had originally done a lot of research about the Velar model as to me, it was more stylish than the sport.  However we immediately fell in love with a white HST that was on the lot.  All of her original requirements went out the window. Sean informed us that they were quite hard to find in that spec etc.  We ended up going home to think about it and made up our minds that it was the one. We made plans to go that night, bring our trade and make the deal.  Sean called me around noon to let me know the car we were interested in had sold.  We were devastated.  We went to another dealer to see what they had inventory wise, looked online in like a 500 mile radius and couldn't find one similar.  Sean was right.  He wasn't being pushy or coming up with a story about the vehicle just to make a sale, it was rare and it obviously was in high demand.  We even tried calling him to see just how "sold" the vehicle was, even joking that we could somehow still sign the triple form before they did to pick it up.  We made it back to the dealer with our trade and it was really difficult to compare other vehicles to the one we missed out on.  We were literally sitting in our car about to leave and Sean persisted to get us to try a TD6 model, informing us of the increased gas mileage and being similar minus some performance features and the dash.  Ultimately the deal was made and in the long run we are happy with our purchase over the flashy one.  The process was simple and to be honest I didn't feel like haggling to death over the price because I didn't want to miss out on another good opportunity.  I want to thank Sean and team for making everything smooth and most of all accommodating during the covid19 situation.
Rick M. 
I was extremely satisfied with the customer service.  Vanessa Martinez is the example when  it comes to taking care of customers! "I appreciate you"...
Belinda F. 
Axel is the MAN!! Thank you so much for making my car buying process super easy! After going to several other Land Rover dealers, I'm so happy I finally got my DREAM CAR at the the Cerritos dealership!! Thanks again to Axel for providing the best customer service, his patience and getting me a great deal even after showing up at the dealership a couple of hours before close time on a Sunday over the Thanksgiving weekend. I'm a happy customer and I definitely recommend Axel for your car buying experience!
Marcos T. 
As Promise from Mr Giannini and his dealer, He made sure that my wife and i were taken care of and took care of all our problems, He was able to put us in our new 2020 Range Rover Evoque and as I promise made our problems with JLR Corporate amd our 2014 Range Rove go away,, I told him that I would make sure that everyone knew that his dealer is the one to go to,. This is my 3rd update and I can honestly say, why didn't I know about Mr Giannini before and my problems would of been solved a long time ago.,Well, Mr Giannini and Sean took care of making our experience with our new purchase hassle free. They answered all my questions and Financing With Lauren Davila were easy. Please consider Cerritos Range Rover for your next purchase and any questions please ask for Sean. All this done in less than 7 days!!!!!That is awesome. they don't play around!!!!Up 1 star ,update to follow, Mr Giannini took time from his busy schedule to see me and talk our situation that we are having.Man, where can I start, I would say!, stay away, this dealer is driving me crazy for the last 3 months, I took my vehicle in for a simple battery light on, and its been there ever since. Happen to be an electrical fire of the main harness,  it has been a nightmare, vehicle was purchase some where else. so I did the mistake not taking it back to them, car was a used car from a different dealer, i figured I would go there because it was closer to where I live. I tried going thru an extended warranty I purchased,, well it was not covered, they convinced me to go thru my insurance and luckily it was covered thru them. But, due to covid,  they have used every excuse in the book, i even heard that the harness is unique and that every vehicle has its own and its made for that specific vehicle. You guys better hope this doesn't happen to you guys!!! you will be waiting till they find a vendor to make it from scratch, at least, thats what they said!!!!.Since 4/22/2020 now keep in mind, this was paid thru my insuramce which cost 13000.00 dollars and 5 payments later i still don't have a vehicle, I've called corporate and they did say that they would cover a rental and reimburse me, but I have to come out of pocket and send in the week remtals and then takes them 3 weeks to approve and send me money. Really,  why wouldn't the dealer provide me with a loaner?, So last week, I got the news that the part was finally in!!!  great right!!!, wrong!!!! I found out today after working on my car for the last 4 days, that the part they send might be the wrong part!!!! its not matching!!!thats what they said!!!!What does that mean!!!!!??????So, im driving to the dealer tomorrow and seeing the car, lets see what happens!!!! Really to talk to the service manager and see what they can do and explain to me what is going on!!! Take your car bussiness somewhere  else!!!!
Envision Jaguar Cerritos Sales Hours
Monday9:00AM - 7:00PM
Tuesday9:00AM - 7:00PM
Wednesday9:00AM - 7:00PM
Thursday9:00AM - 7:00PM
Friday9:00AM - 7:00PM
Saturday9:00AM - 7:00PM
Sunday10:00AM - 7:00PM