Jaguar E-Pace Reviews & Comparisons
Jaguar E-Pace Reviews
Jaguar E-Pace Videos
Take a Look at the New Facelift of the 2021 Jaguar E-Pace
In this review, the focus is on the interior and exterior of the 2021 Jaguar E-Pace.
Interior and Exterior Review of the Jaguar E PACE 2021
We go all out to check out the new E-Pace Jaguar. Watch the video review and have a feel of the interior and exterior.
Jaguar E-Pace Comparisons
Range Rover Evoque vs. Jaguar E-Pace 2020
Here is a new video by MotorCarTube comparing the 2020 models of the Range Rover Evoque and Jaguar E-Pace. Check out the video and pick the best car.
Jaguar E- Pace vs. Volvo XC40 | Luxury SUVs
Both the Volvo XC40 and E-Pace are 5-seater SUVs and considered to be the latest entrants to the market. In this video, we compare these two cars and will allow you to pick your best choice. Which SUV is worth your money?
ZIP CODES - near Cerritos
90242

90712

90715

90805

90806

92646

92647

92801

92802

92804

92806

92808

90808

90813

92833

90807

90802

92648

90810

92835

90803

92831

90630

92649

90720
CITIES near Cerritos
Downey
Lakewood
Long Beach
Huntington Beach
Anaheim
Fullerton
Cypress
Los Alamitos
Seal Beach
About the Jaguar E-Pace
If you are looking for a small car that comes with some luxury, the E-Pace- X540 is your best bed. Made by Jaguar Land Rover, the car comes with a soft roader design. The car was launched on 13th July 2017 and was the 2nd edition of Jaguar SUVs.
Jaguar E-Pace Trim Comparison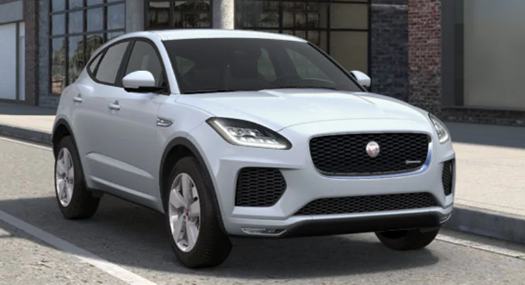 2020 E-Pace R-Dynamic SE
$49,200
Grained leather 14‑way memory front sport seats
LED headlights with LED Signature Daytime Running Lights
Heated, electric, power‑fold mirrors with memory, approach lights and driver side auto‑dimming
Meridian™ Sound System
In addition to the standard Advanced Driver Assistance Systems, the E‑PACE R-Dynamic SE also comes with Park Pack, which includes Park Assist, 360° Parking Aid and Rear Traffic Monitor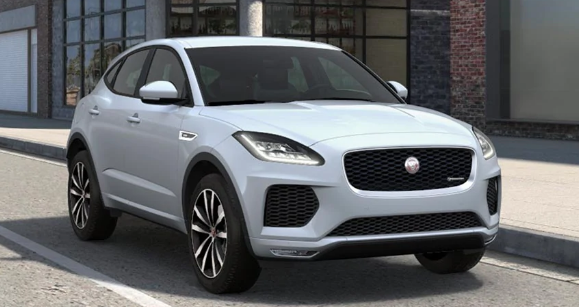 2020 E-Pace R-Dynamic HSE
$52,950
Heated, electric, power-fold mirrors with memory, approach lights and driver side auto‑dimming
20" 5 Split‑Spoke 'Style 5051' Satin Grey Alloy Wheels with Contrast Diamond Turned finish
In addition to the standard Advanced Driver Assistance Systems, the E‑PACE R‑Dynamic HSE also comes with Park Pack and Drive Pack. Park Pack includes 360° Parking Aid, Rear Traffic Monitor and Park Assist. Drive Pack includes Adaptive Cruise Control with Queue Assist, High‑Speed Emergency Braking11 and Blind Spot Assist.
Touch Pro™ and Connect Pro Pack, including Pro Services and 4G Wi‑Fi Hotspot, Smart Settings, Online Media and Navigation Pro. Also features the superb Meridian™ Sound System and the Interactive Driver Display.
Perforated Windsor leather 18‑way memory front sport seats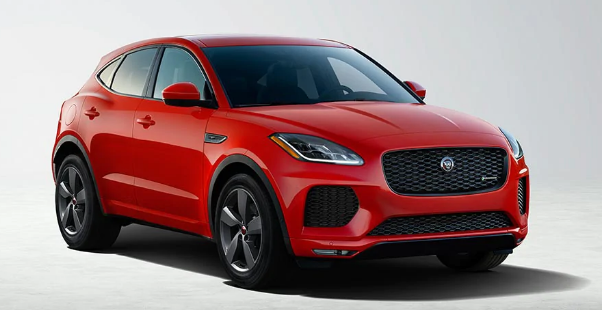 The E-Pace Checkered Flag
$46,400
Keyless Entry
Interactive Driver Display, Touch Pro™ and Connect Pro Pack
19" 5‑Spoke 'Style 5049' Satin Dark Grey Alloy Wheels
Metal tread plates with Checkered Flag branding
Ebony grained leather with Flame Red stitching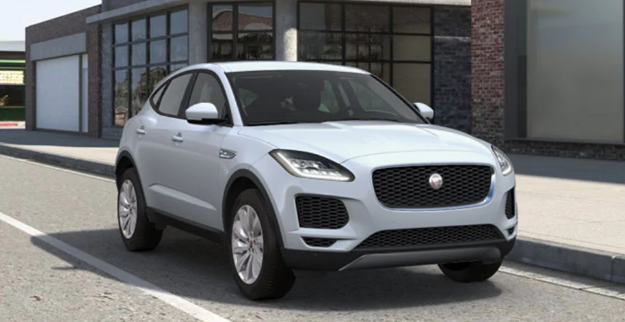 2020 E-Pace SE
$43,7001
Grained leather 14‑way memory front seats
Meridian™ Sound System
In addition to the standard Advanced Driver Assistance Systems, the E‑PACE SE also comes with Traffic Sign Recognition, Adaptive Speed Limiter and Park Pack, which includes Park Assist, 360° Parking Aid and Rear Traffic Monitor
Powered Tailgate
19" 10-Spoke 'Style 1039' Alloy Wheels
Frequently Asked Questions
Does the Jaguar E-Pace come as a fully electric car?
There are many people who tend to confuse the E-Pace for an electric car. However, Jaguar does not have an electric or a plug-in hybrid model. As a matter of fact, the automaker does not seem to have plans to produce electric cars before 2021. If you need a Jaguar electric crossover, the I-Pace 2018 may be a good choice.
How good is the Jaguar E-Pace?
The latest version of the Jaguar E-Pace (2021) is quite an appealing model. Whereas it is a subcompact crossover, it is not as luxurious as the alternatives on the market. However, if you are looking for a car that comes with special styling and branding, this version will do the trick.
Which Jaguar model is better between the F-Pace and E-Pace models?
Both the F-Pace and the E-Pace models have a number of similarities. Both are able to fit 5 persons but the cargo space on the F-Pace is bigger than that on the E-Pace. The F-Pace is a model that is meant to be a luxury SUV, whereas the E-Pace is a compact SUV, with luxury features.
How reliable is the Jaguar E-Pace?
Based on the What Car Reliability Survey, Jaguar got a very low score managing position 21 out of 31. The Volvo and BMW outperformed the Jaguar. In specifics, in the survey for family SUVs, the E-Pace finished 22nd out 25 cars.
About Envision Jaguar Cerritos Sales Department
The excellent treatment you'll receive and comfort you'll find in leasing or owning a Jaguar begins when you enter the Jaguar Cerritos showroom, and stays with you as long as you're behind the wheel. In addition to our extensive inventory of Jaguar vehicles, we also offer Jaguar parts and service at our dealership in Cerritos, CA. Jaguar vehicles aren't just our product, they're our passion and anyone who shares that passion is a friend of ours.
REVIEWS
From our Cerritos Customers
Darcy P. 
Thank you Sean and the rest of the team for such great customer service! Made buying a car so easy and comfortable during this crazy time (covid). We are so in love with our new Range Rover!!!!
Kelly S. 
I've been servicing my car at the Cerritos location over the past few years and have always had a great experience with the service team, but recently, I decided that I wanted to upgrade my 2008 Land Rover LR2 for a new all black 2020 Range Rover Evoque and Sean Khnkoyan made my dreams come true!Especially during the COVID-19 situation, Sean went above and beyond to provide me the best customer service possible. He was extremely helpful and knowledgeable. Sean was able to get me the exact car I wanted at a great price within a day of inquiring, while making sure the entire leasing process was seamless and quick! I was able to drive off with my new car in just over an hour. Overall, I had a great experience thanks to Sean and I would recommend that you ask for him when you're looking to lease or purchase a new Land Rover or Jaguar.
Derek E. 
About a week ago my wife and I got serious about purchasing another vehicle.  She had a whole list of "requirements" 3rd row etc.  We had a few cars in mind and one day I took her to the Range Rover dealership in Cerritos.  It's always been on her mind that she wanted one but she didn't really think it was possible.  We were immediately greeted by Sean (Suren) and shown a few vehicle's after talking some basics of what we were looking for.  I had originally done a lot of research about the Velar model as to me, it was more stylish than the sport.  However we immediately fell in love with a white HST that was on the lot.  All of her original requirements went out the window. Sean informed us that they were quite hard to find in that spec etc.  We ended up going home to think about it and made up our minds that it was the one. We made plans to go that night, bring our trade and make the deal.  Sean called me around noon to let me know the car we were interested in had sold.  We were devastated.  We went to another dealer to see what they had inventory wise, looked online in like a 500 mile radius and couldn't find one similar.  Sean was right.  He wasn't being pushy or coming up with a story about the vehicle just to make a sale, it was rare and it obviously was in high demand.  We even tried calling him to see just how "sold" the vehicle was, even joking that we could somehow still sign the triple form before they did to pick it up.  We made it back to the dealer with our trade and it was really difficult to compare other vehicles to the one we missed out on.  We were literally sitting in our car about to leave and Sean persisted to get us to try a TD6 model, informing us of the increased gas mileage and being similar minus some performance features and the dash.  Ultimately the deal was made and in the long run we are happy with our purchase over the flashy one.  The process was simple and to be honest I didn't feel like haggling to death over the price because I didn't want to miss out on another good opportunity.  I want to thank Sean and team for making everything smooth and most of all accommodating during the covid19 situation.
Rick M. 
I was extremely satisfied with the customer service.  Vanessa Martinez is the example when  it comes to taking care of customers! "I appreciate you"...
Envision Jaguar Cerritos Sales Hours
Monday9:00AM - 7:00PM
Tuesday9:00AM - 7:00PM
Wednesday9:00AM - 7:00PM
Thursday9:00AM - 7:00PM
Friday9:00AM - 7:00PM
Saturday9:00AM - 7:00PM
Sunday10:00AM - 7:00PM