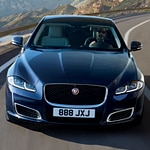 The Jaguar XJ is regarded as one of the most popular automobiles in its class, a true leader among competing luxury sedans. There are a number of specific reasons why the Jaguar XJ garners consistent acclaim among the motoring public. These include the outstanding, superior exterior features on the Jaguar XJ.
The exterior of the Jaguar XJ is noted for being "intelligence in motion." The idea that the sedan is intelligence in motion stems from attributes like full LED headlights that optimize efficiency and illumination. The exterior of the Jaguar XJ also comes with an eye-catching teardrop design that optimizes aerodynamic efficiency and lowers CO2 emissions.
The surest way to gain more information about the Jaguar XJ is to pay a visit to Jaguar Cerritos at your convenience. Located in Cerritos, CA, the capable team at our dealership can arrange a test drive for you.